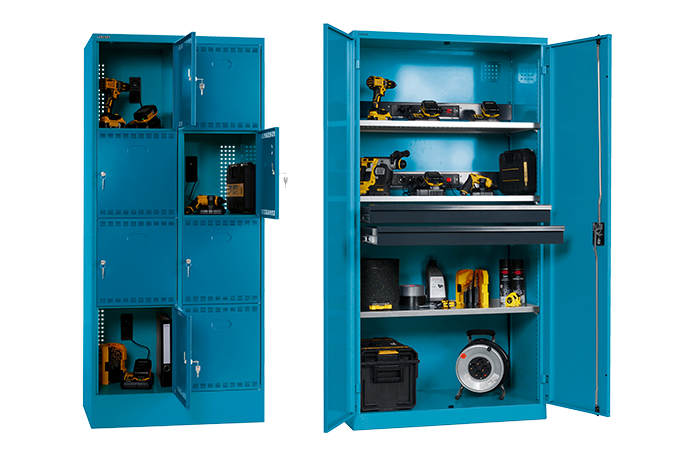 SECURITY WITH CHARGING FUNCTION
LISTA electrical cabinets are perfect for the safe, personal storage of battery-powered devices of all kinds. These robust all-rounders are idea for offices and administrative functions, schools, universities and other public buildings.
With their wide range of designs and their space-saving dimensions, they can be flexibly adapted to the most varied spaces and requirements. The integrated power supply enables fast, convenient charging of the devices locked in the cabinets, thus providing an optimal solution for today's personal storage requirements.
BENEFITS AND FEATURES
Wide range of uses
with charging options for battery-operated electrical machines, BDE devices, notebooks, tablets, smartphones or e-bike batteries
Wide range of specifications
with sockets, RJ45 network sockets and USB interfaces
Outstanding safety features
Secure locking option
devices are locked away at all times, and are protected against unauthorised use
Sophisticated ventilation
with optimal air circulation thanks to ventilation holes at the front and back
CUSTOM CONFIGURATION
The choice is yours
The huge strengths of the LISTA system include the countless versions and optional features for the individual modules. Whether it's a drawer cabinet, workbench, cabinet or shelving system, all of the solutions can be individually configured and thus flexibly adapted to a wide range of requirements. You get LISTA modules in different dimensions, designs and colours, with variable internal partitioning and a wide range of super- and substructures, locking solutions and partition material. Together we can find the solution that works for you.