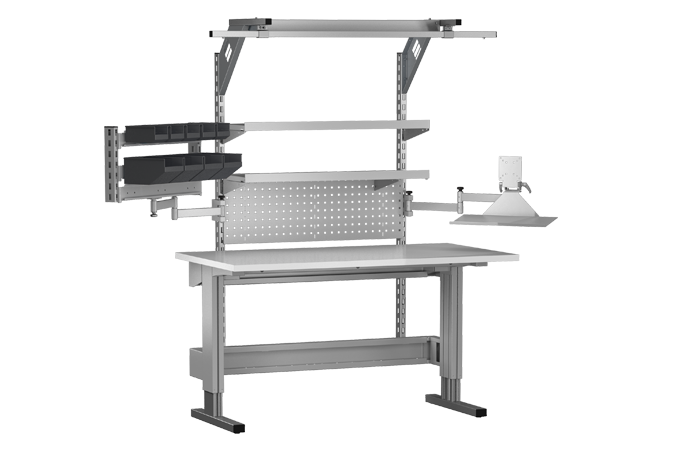 FOR SMOOTH WORKFLOWS
LISTA's workstation system range offers an all-in-one solution for optimising workstations and workflows.
Regardless of whether it's an individual table, multiple workstations or a team environment: The seamless integration of components turns simple workstations into functional system solutions for optimum ergonomics and cost-effectiveness.
BENEFITS AND FEATURES
The utmost stability
Frames with a load capacity of up to 300 kg, durable resin or Multiplex worktops
User-friendly and ergonomic
thanks to table frame with infinitely (mechanically or electrically) adjustable height from 730 mm to 1130 mm and programmable control for storing table heights
Space-saving and well-organised storage
in freely combinable and configurable LISTA drawer cabinets
Perfect cable management
thanks to crossbars with integrated cable duct
Fully mobile
when fitted with rubber or nylon castors for mobile use
CUSTOM CONFIGURATION
The choice is yours
The huge strengths of the LISTA system include the countless versions and optional features for the individual modules. Whether it's a drawer cabinet, workbench, cabinet or shelving system, all of the solutions can be individually configured and thus flexibly adapted to a wide range of requirements. You get LISTA modules in different dimensions, designs and colours, with variable internal partitioning and a wide range of super- and substructures, locking solutions and partition material. Together we can find the solution that works for you.